Poole Quay (Google map) is situated on the south coast approximately 6 miles west of Bournemouth and is Dorset's second largest settlement after Bournemouth.
Poole is a popular tourist resort offering visitors many excellent attractions including the lively Poole Quay, historic town, Poole Harbour (the largest natural harbour in Europe) and miles of first class golden beaches such as Sandbanks Beach.
Poole is also home to the Royal National Lifeboat Institution (RNLI) headquarters and the impressive Sunseeker boatyard opposite the Quay (it is the largest UK-based luxury yacht maker).
For parking recommendations and parking charges see our page Poole Quay Parking Charges
Poole's official tourism website can be found at www.pooletourism.com Here you'll find a list of upcoming events as well as information about visitor attractions, places to stay and places to eat out. Their website also has an excellent pdf map of Poole Town Centre Poole_Town_Map.pdf (external link). The Poole Visitor Centre can be found just inside the Poole Museum on the Quay and has plenty of leaflets, maps and helpful staff.
Below you can find a selection of photos of Poole Quay starting from the east end of the Quay (fishing boat moorings and the old RNLI station) and walking along the Quay until you reach the Hamworthy lifting bridge at the west end.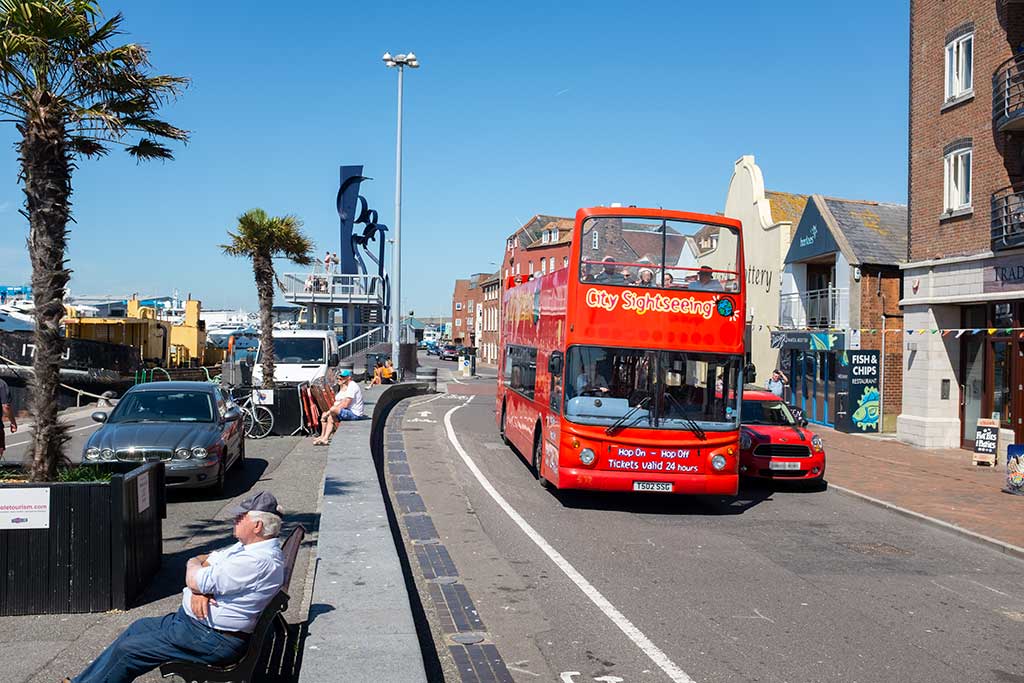 The map above shows Poole Quay in relation to the surrounding area. Poole Quay lies at the northern edge of Poole Harbour. In the middle of Poole Harbour you can find Brownsea Island, to the east is the Sandbanks Peninsula. The Sandbanks Ferry takes you across the entrance to the harbour to the Studland Peninsula. The Purbeck Hills are a ridge of chalk that extend from Old Harry Rocks in the east to Lulworth Cove in the West. There is a gap in the ridge at Corfe Castle. The whole region from Studland, Swanage and Corfe Castle across to Lulworth Cove and Durdle Door is known as the Isle of Purbeck or the Purbeck Peninsula. Wareham, a historic market town to the west of Poole Harbour, is frequently referred to at the gateway to the Isle of Purbeck. You'll also hear about the Jurassic Coast. This is a World Heritage Site that stretches from Studland Bay to Exmouth in East Devon, a distance of about 96 miles. This coastline is of outstanding value for its rocks, fossils and landforms – a geography teachers paradise.
Related Pages: Poole Old Town / Poole Museum / Poole Harbour / City Sightseeing Bus / Brownsea Island / Swanage / Wareham / Sandbanks / Boat Trips from Poole Quay