Highcliffe Castle
Highcliffe Castle was built in 1835 by Charles Stuart (Lord Stuart de Rothesay) and is a superb example of Gothic Revival style architecture. The mansion house incorporated large quantities of stained glass and carved Medieval stonework salvaged from the ruined Benedictine Abbey of St Peter at Jumieges and the Grand Maison des Andelys, both situated in Normandy, France. Both buildings had fallen into disrepair after the French Revolution. Charles Stuart was a distinguished diplomatic and became British Ambassador to France and after serving two terms later became Ambassador to Russia.
Sat Nat Postcode BH23 4LE, Rothesay Drive, Highcliffe. (Google map)
Telephone: 01425 278807
Website: https://www.highcliffecastle.co.uk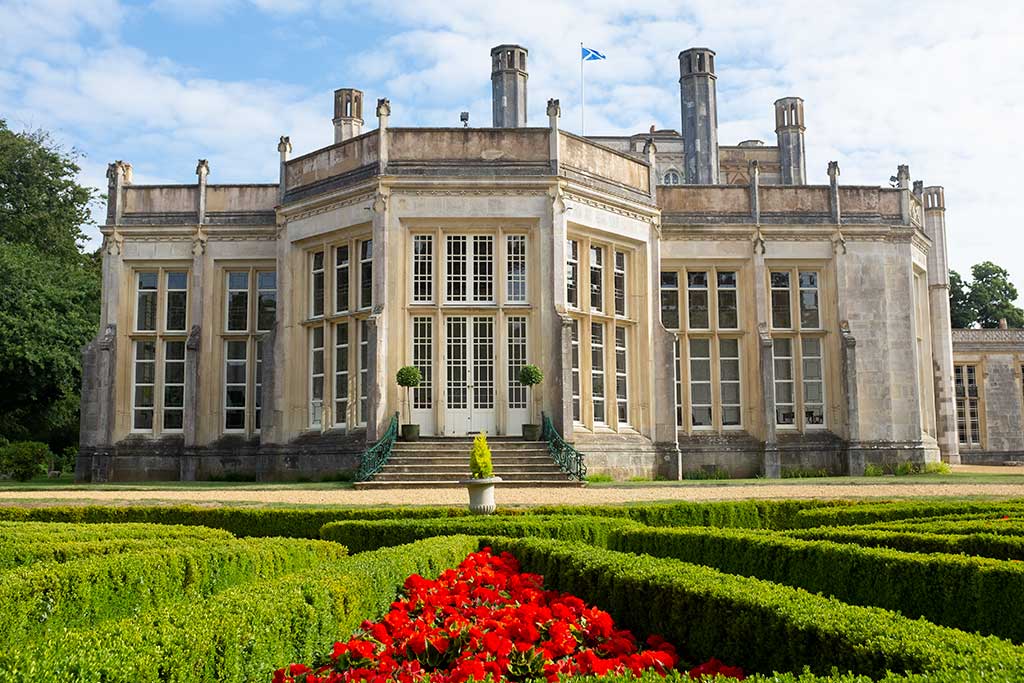 One way to generate income to pay for the Castle's upkeep was to rent it out. One of its more notable tenants was the American Harry Selfridge, founder of Selfridges department store in London, who rented the Cattle from 1916 to 1922 and used it to entertain his wealthy friends. Selfridge loved the building so much he wanted to buy it but it wasn't for sale so he bought the nearby Hengistbury Head, a mile-long stretch of beautiful cliffs and Bronze Age monuments with the plan to build "the largest castle in the world". Plans were drawn up but Selfridge's personal life and fortune suffered over the years and, after the death of his wife during the 1918 flu epidemic, he became increasingly reckless and his wealth could no longer support his lavish lifestyle. In 1930 he had to sell Hengistbury Head to the local council. When Selfridge died in 1947 he was penniless. He is buried in the nearby churchyard of St Marks in Highcliffe.
Tragedy struck the Highcliffe Castle in 1967 when a fire badly damaged the Great Hall and another fire the following year caused more devastation. The Castle fell into ruin. In 1977 Christchurch Council compulsorily purchased the Castle. Repair work didn't start until 1994 funded by the council and English Heritage. Renovation has taken place in phases over the following years helped by National Lottery grants.
The Castle, sitting in 14-acres of land, is now owned by Christchurch Council and is open to the public throughout the year. It is also used for weddings and host to several events and exhibitions. .
Highcliffe Castle Ticket Prices 2021
| | |
| --- | --- |
| | Price |
| Adult | £7 |
| Children (5-16) | £3 |
| Senior/Student | £6.50 |
| Family (2A + 2C or 1A+3C) | £15 |
| Under 5's / Carers | Free |
| Historic Houses members | Free |
Season tickets are also available. Tours of the house are available for £3 adults, £1 children. Tickets do not include car parking charges – see bottom of page for info.
Ticket prices do not include car parking – for car park charges see below.
Highcliffe Castle Car Park
Sat Nav postcode is BH23 4LE. This is a small car park adjacent to Highcliffe Castle with capacity for 102 cars. Note that the maximum stay at this car park is only 4 hours and the car park and castle grounds are locked in the evening so check times on the notice board. Car park charges are given below. Payment can be made using cash, phone (01202 232000) or using an online app (RingGo https://www.myringgo.co.uk/bookparking). The car park location number is 1899
Highcliffe Castle Car Park Charges
| | | |
| --- | --- | --- |
| | April-Sept | Oct-March |
| 1 hour | £1.50 | £0.70 |
| 2 hours | £2.70 | £0.70 |
| 3 hours | £4.40 | £0.70 |
| 4 hours | £6.40 | £0.70 |
Charges apply 7am – Midnight, 7 days. Maximum stay 4 hrs. Information updated 18 March 2021
More information can be found on the https://www.bcpcouncil.gov.uk/Parking/ website
Related Pages: Highcliffe Castle Beach / Highcliffe Beach / Friars Cliff Beach / Mudeford Quay / Mudeford Sandbank / Christchurch