Old Harry Rocks
Old Harry Rocks (Google map) are 3 chalk coastal formations located at Handfast Point between Studland and Swanage. They mark the most eastern point of the Jurassic Coast, a UNESCO World Heritage Site.
From Old Harry Rocks you get beautiful views across Poole Bay to Sandbanks, Bournemouth and then on to Hengistbury Head. Directly to the east lies the Isle of Wight. In fact, a few thousand years ago, the rocks used to belong to a long stretch of chalk joining the Jurassic Coast to The Needles on the Isle of Wight.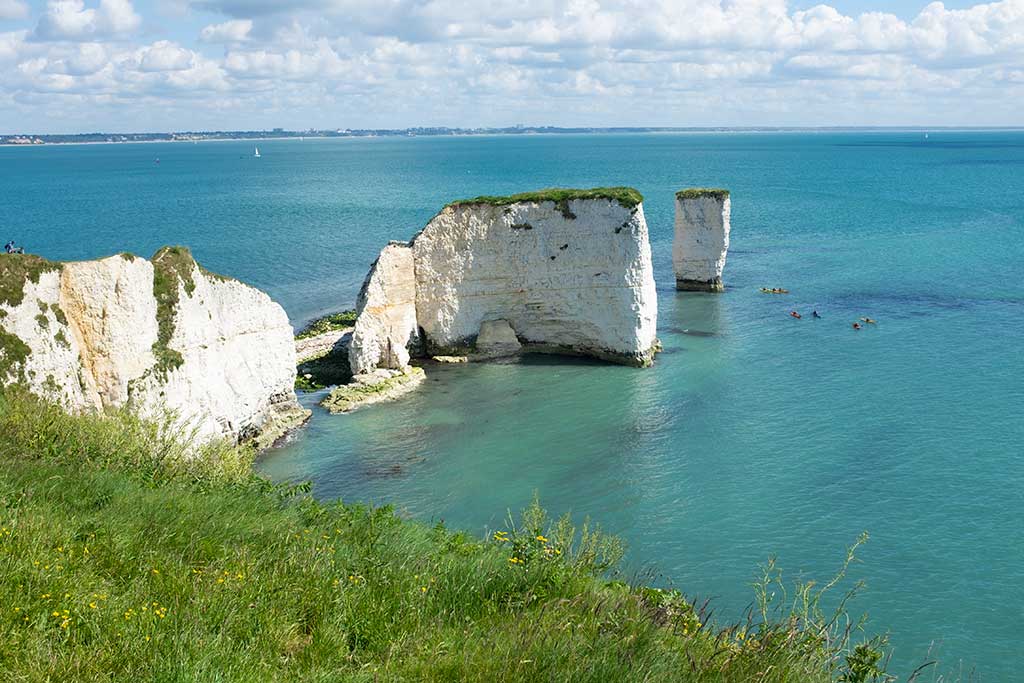 The chalk stack at the end is known as Old Harry. Local legend says that the rock was named after Harry Paye (died 1419), the infamous Poole pirate whose ship hid behind the rocks awaiting passing merchantmen.
Old Harry and the land around it is owned and managed by the National Trust. There is no entrance fee and the walk from Studland Village is level and easy and only takes about 30 minutes and should not be missed. The coastal path forms part of the South West Coast Path. See our Studland Village webpage for parking details.
If you are interested in the formation of Old Harry I would recommend viewing the short video Old Harry Rocks, Dorset GCSE Georgraphy which can be found on the BBC Bitesize website.
Related Pages: Studland Village / Studland South Beach / Studland Middle Beach / Studland Knoll Beach / Swanage / Corfe Castle