West Bay is also referred to as Bridport Harbour since it is situated only 1.5 miles south of Bridport. West Bay is sited at the mouth of the River Brit and is part of the Jurassic Coast, a World Heritage Site. It also lies within the Dorset Area of Outstanding Natural Beauty.
West Bay has two beaches, East Beach and West Beach. East Beach is the most attractive, backed by 50m high golden sandstone cliffs. East Beach is designated a Site of Special Scientific Interest and forms one end of Chesil Beach, a barrier beach which extends southeast for 18 miles toward the Isle of Portland near Weymouth.
Google map of West Bay Beach near Bridport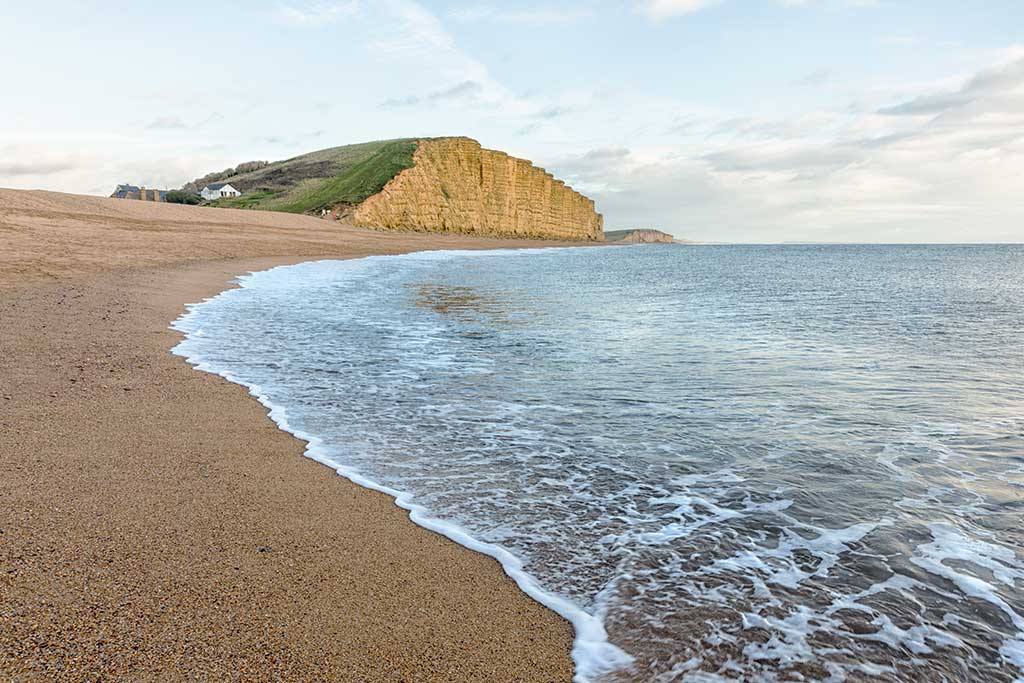 Many people will recognise the iconic cliffs of East Beach from watching the ITV crime drama Broadchurch.
West Beach is smaller and quieter and more protected by the sea groynes making it safer and more suitable for families with young children.
Both beaches are patrolled by lifeguards during the summer months. Dogs are not allowed on the beach between May and September.
West Bay Road Car Park
Sat Nav postcode is DT6 4EL (Google map) Capacity 438 spaces (8 disabled). Car park charges are given below. This is the largest and most convenient car park for visiting the beach.
Payment can be made using cash, phone or using an online app (JustPark location 6326).
More information about this car park can be found on the website https://www.dorsetcouncil.gov.uk/parking/
West Bay Road Car Park Charges
| | | |
| --- | --- | --- |
| 8am-6pm, Mon-Sun | Mar-Oct | Nov-Feb |
| up to 30 mins | £1 | £0.50 |
| up to 1 hour | £2 | £1 |
| up to 2 hours | £3 | £1.50 |
| up to 3 hours | £4 | £2.20 |
| up to 4 hours | £5 | £3.50 |
| up to 10 hours | £10 | £6 |
Charges apply Mon-Sun 8am to 6pm. The car park is locked overnight at 10pm. The prices above are only for cars. There is an additional rate for motorhomes so check website for details. Motorhomes are not permitted between 10pm and 8am. Information checked/updated on 27 March 2023
If you are carrying loads of beach gear then there is smaller car park right on the beach front but get there early as it fills up quickly East Beach Car Park DT6 4EW (Google map). 150 spaces (0 disabled). Same prices as West Bay Car Park above. No motorhomes. Just Park location 6331.
For a comprehensive list of walks in the West Bay area see the website https://www.dorsetwalks.co.uk
Related Pages: Boat Trips from West Bay / Bridport / Charmouth Beach / Seatown Beach / Chesil Beach / Lyme Regis / Burton Bradstock / Abbotsbury Village