Milton Abbas is a small picturesque village located about 5 miles southwest of Blandford Forum and 9.5 miles north-east of Dorchester.
SAT NAV postcode DT11 0BW (postcode of the church in the main street) (Google map)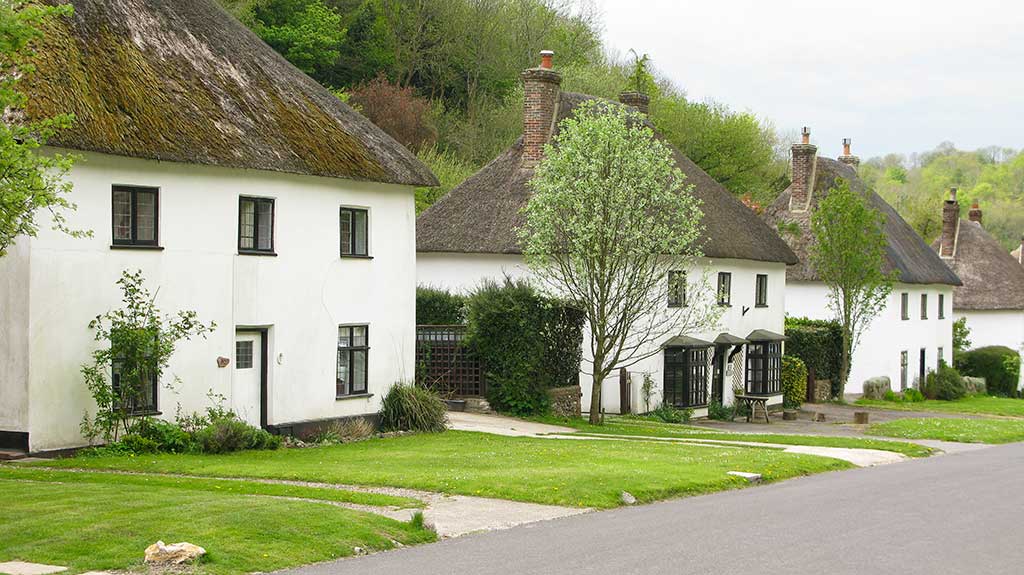 In 1780 Joseph Damer, Lord Milton, who was the owner of Milton Abbey decided that the nearby town of Middleton was spoiling his peace and quiet and commissioned the architect Sir William Chambers and the landscape gardener Capability Brown to design a new village, Milton Abbas, in a wooded valley a bit further away and out of sight. Most of the original villagers were relocated her and the old village demolished. One of the original buildings, the Almshouses, were carefully taken down and re-erected in Milton Abbas and can still be seen today.
The main street consists of 36 almost identical thatched cottages, each cottage designed to house two families. They were built using cob which is a low-cost clay and straw brick material which has excellent insulation properties (also known as adobe). They were originally painted yellow but are now white-washed. Most of the houses are now single dwellings instead of double.
Some of the cottages can now be rented for holidays. Along the gently sloping street there is also a pub (The Hambro Arms http://www.hambroarms.com), a church, post office, a now redundant school building and the lovely Tea Clipper Tea Rooms http://teaclippertearooms.co.uk
Related Pages: Blandford Forum / Cerne Abbas / Dorchester / Hambledon Hill